Vocation Story - M. Div. Degree Program
Cathy Schertzberg Smith's Story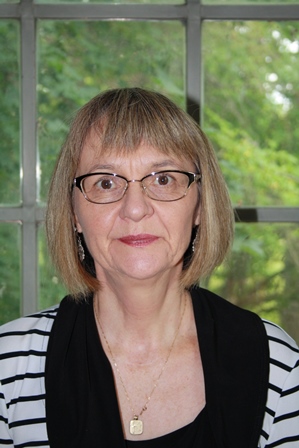 Being a part-time student at St. Peter's Seminary in the Masters of Divinity Program is yet another one of God's great surprises in my life. My desire to attend university and to grow in my faith has been with me my whole adult life and my presence here at the seminary is the result of their miraculous convergence.
After entering college right out of high school, I was left with the nagging question of "what if" about university. Life went on, though, as usual, with other more pressing matters always seeming to get in the way of my ever realizing my dream. Or so I thought.
In actuality, I was oblivious for some time that the decisions I was making in life were directing me on this very path. My marriage to a Catholic, my conversion to Catholicism ten years later and my earnest involvement in youth ministry, all eventually culminated in my being hired into parish ministry. So for the past twenty-five years I have attempted to read the signs as best that I could to where God was leading me. Knowing when to persevere and stay as well as when to back away and take a new leap into the unknown came from my growing attention to all things of the Church. Through my numerous encounters, I am developing the skill of listening to the nuances of life where God resides. By no means did I always have confidence in the challenges that I took on but I only knew that I would never know the answer to my 'what ifs' unless I took the risk.
During my time serving in parish ministry I acquired a Certificate in both youth ministry and pastoral ministry over a period of about ten years as part of the requirements of the job. This simply whet my appetite for more. So in 2011, after having returned to parish ministry on a part time basis for about three years, I recognized that it was time to move on. It was then that I learned of the possibility of my applying to St. Peter's Seminary. With God's grace, my years of experience in ministry plus my certification achieved through continuing education, it appeared that I was getting closer to realizing my long-standing aspiration. Learning of my acceptance into the St. Peter's Master's Program filled me with graditute and has become such an unbelievable blessing in my life.
I have also carried, for many years, a hope that I could assist other Catholics in their faith journey, as well. Through my experiences in the parish, I witnessed to the struggles, questioning and longing in others that we all encounter in life. Many times I wished that I could have done more to give people better direction. I wanted to be part of the solution and not the problem when it came to addressing the challenges facing Catholics in the Church today. I came to recognize that this would demand a very strong personal foundation nurtured by authentic knowledge and a discerning faith.
At St. Peter's I have found both within the welcoming and supportive environment created by students, staff and teachers.