Vocation Story - Certificate in Pastoral Ministry
Kathryn Heemskerk's Story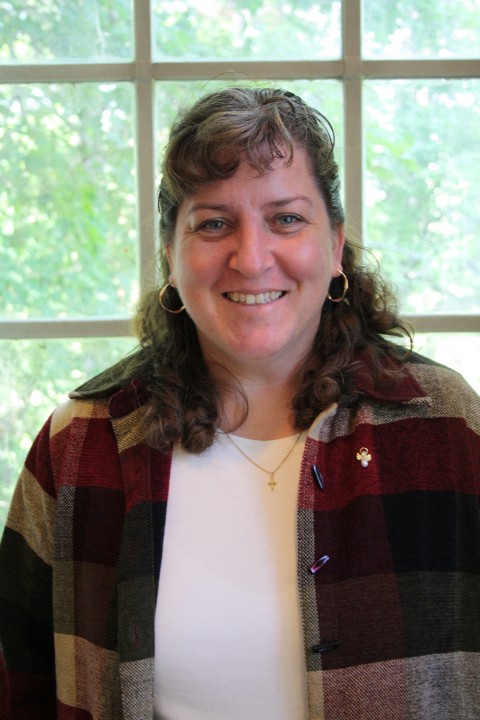 My name is Kathryn Heemskerk. I am 44 years old, mother of four and a supply teacher in the public elementary board. I am an active member of St. Mary's parish in Tillsonburg, Ontario. This month, I entered the second year of three at St. Peter's Seminary in the Certificate of Pastoral Ministry program. I am not at the beginning, nor the end, just trusting God as I put one foot forward in front of the other.
Of all the names we have for God, the one that captures my heart these days is Creator. Just like there are many different ways to say love and show love, there are many ways that our patient God weaves love into our lives as He pursues us and tries to capture our hearts. My path to this program is a long and winding road, but God has patiently called me till I listened.
I was not born in a Catholic home. I first learned about Jesus from a high school teacher, at a time in my life when everything was going wrong. It literally saved my life. However, I did not stumble on the word Catholic until I entered King's College, UWO. Here I was going to a Catholic university with Catholic classmates and never heard of the word Catholic! God placed a frosh girl in my life who invited me to join her as she tried to discern whether or not she would return to her faith. While she did not, I found a faith home at St Peter's Cathedral and joined their RCIA program. I became Catholic April 1990—25 years this coming Easter!! (Thanks be to God.)
When I was young in the faith, I thought about missionary work, but was too scared to believe God could use me. Seven years ago we moved churches, and God again called me. The pastoral minister asked me if I thought I could do her job. I really wanted to say yes, but my husband was working through the loss of his mother's church, so even though I looked into it, I decided the time was not right. Still, the seed had been planted!
Three years ago, I went to talk to the new priest at our church. Little did I know God had a plan for me! I fell into going for monthly visits because I suddenly realized that I was starving for a deeper faith. I probably asked a thousand questions (poor guy!), read ferociously and prayed deeply. Then I decided to revisit the idea of pastoral ministry. Why? It is through all that life can throw at you, all of the ups and downs, that God can use you at your best. If I have experienced success, failure, moving jobs, job losses, fertility issues and health issues, births, deaths, losses and sorrows unfathomable…God can use all of those things to strengthen my faith, so that I can encourage others who are stumbling and searching and wondering why. Without a shadow of a doubt, I KNOW I am who I am today, because God has been there every step of the way, even when I did not know Him. He created me, loved me, pursued me and wooed me, and I owe my life to Him. If I can be just a wee bit of light and love in the world, He will use that to His glory. I am a passionate believer in Jesus and I know in my heart that God has a plan for me. Is it working in the Church? Maybe. The only thing I know is that wherever God is leading me, I needed more learning to strengthen my faith for the journey.
The Seminary is an amazing experience. The work is hard, but rewarding. Nothing I learn will ever be a waste. I am growing so much. Sometimes I have growing pains, but a deacon in my church reminds me often that we are only scratching the surface and growing pains are good. The best part of the journey is that I am not alone. Besides those at the Seminary, friends, family and priests stand behind us and cheer us on.
As second year begins, I am so very excited. Just last week, at a conference on evangelization, God reconfirmed for me that I was still going the right direction. With great anticipation I return up to the Seminary and open my heart to all God will show me. Maybe some day you will also be asked to embark on this breath taking journey closer to Him!