Brian Hanley's Vocation Story
Brian Hanley's Story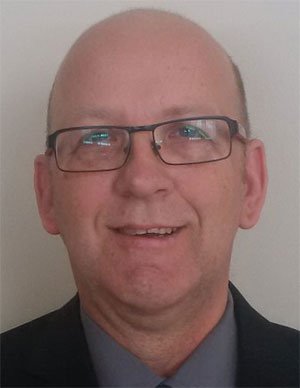 I think that all young Catholic boys at one time or another dream of becoming a priest. I remember going to Mass with my parents and thinking, "I want to be like Father O'Neil someday".
My faith and my Church have always been a big part of my life, but like a lot of youth I wandered away from my faith for a time. Then in 1983, I met the love of my life, Colleen. We started going to my church, where I recaptured my faith listening to a homily by Father Michael Langan about the God of the Galaxies. Colleen and I entered the RCIA process and I was confirmed and Colleen was received into the Church at the Easter Vigil in 1985. Colleen and I were married July 15, 1985 and have raised two wonderful children.
I am a member of St Mary parish in Tillsonburg. I have been involved in the Knights of Columbus. I am an Extraordinary Minister of Communion and a Lector and a member of the parish Liturgy Committee, I have volunteered with our parish youth ministry and have been a member of our Carmelite community for eight years.
I have always felt that God was asking me to serve Him in another way. I went to an information meeting at my parish about the Diaconate program. I was enthralled with what I heard from the different speakers and felt a voice calling me to fill out an application. After submitting my application, I was invited to attend the first Day of Prayer and Discernment at St. Peter's Seminary where my wife and I were introduced to other applicants and their wives who felt the same calling. Coming into the Seminary that first day I was welcomed by a candidate who was in his fourth year of formation and who gave me a big hug. I have always felt that the Seminary was like a home filled with brothers and sisters who are on the same spiritual journey.
During my first year of study and formation, I struggled with writing my Reading Logs and Formation Journals because I was challenged expressing my feelings in my writing. With help from my Home Facilitator, I was able to express my personal feelings to grow spiritually and also in my diaconal studies. This has also helped me form a deeper relationship with my immediate family, especially Colleen, but also with my diaconal study family, both my classmates and the Formation team.
The Formation and Study program has allowed me to grow closer to God and to the people around me. Through my journaling, the formation presentations and my prayer time at home and on the formation weekends, I have become comfortable sharing my faith with others and expressing my feelings.
In years II and III, I am taking on a Ministry of Charity weekly visiting a nursing home where at first I thought I would be the face of Christ for them. To my amazement, I found out that they were the face of Christ for me at the same time. I have laughed with them, cried with them and become close friends with them.
Each formation weekend, when I lead Morning or Evening Prayer and share a reflection, I become more confident in knowing that with the help of my Home Facilitators, the Formation Team, my classmates and especially the Holy Spirit, I will become the person God is forming me to be.
I've gradually come to realize with the help of my family and friends that God has called me to serve and to be an example for His people and church.
As I say every time I pray, "Here I am, Lord. I come to do your will."