Fr. David Johnston's Formation Story
David Johnston's Story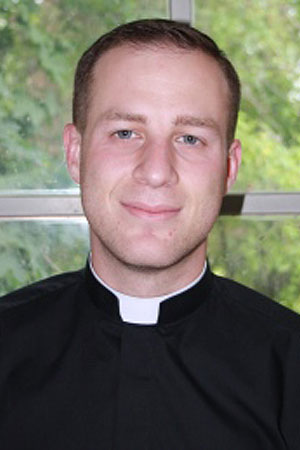 The more that I reflect upon my own call, the more I realize that our Lord is full of surprises insofar as He is always calling and reaching out to us and the measure in which we can see, hear and experience this call is dependent on how open we are to Him. Through a series of conversions, I found myself growing more and more open to His calling and His reaching out. I grew up in what could be described as a fairly normal family in the small town of Port Lambton, Ontario. My father worked at the local power plant, and was steeped in deeply Catholic roots, while my mother, stayed at home and looked after me and my three siblings while attending to the various other things which needed to be done at home. Although my mother was raised Presbyterian, she faithfully kept her promise to raise me and my siblings in the Catholic faith and often attended Mass with us on Sundays.
I have many fond memories of growing up; of spending time with friends and family, attending Sacred Heart School where Fr. Pat Costello regularly visiting our classrooms, of working alongside my dad with various things in his time off either at home or as he volunteered at the nearby baseball park or elsewhere. There was a very natural rhythm to the way in which we lived and it instilled in me a sense of duty, the importance of serving and in being involved in the broader community. A simple family life was something I greatly admired and thought I would replicate for myself. Despite the fact that I greatly respected our parish priest, and that it had been suggested to me numerous times by my family, a co-worker, and even an associate pastor that I might become a priest, I never expected to follow in the footsteps of Fr. Costello and come to St. Peter's and study for the Diocese of London. These suggestions were something which I would typically brush off, as I seemed to have my own plans for life which did not include the priesthood.
Thanks to a good catechesis in elementary school, I was knowledgeable about Catholicism and being very committed to the fact that I was Catholic, but I was not really aware of how being Catholic would or should affect how I lived my life. I was what could be described as a cultural Catholic. Outside of church however, the Faith had little bearing on my day to day life, aside from trying to follow the rules which I was expected to follow. I did what was expected, I sometimes went to Mass on Sundays, I went to confession before Christmas and Easter, I occasionally said some prayers, I believed in the Faith that I was taught, and I generally tried to be a good person. This is hardly the kind of background that someone might expect of someone on the road to the priesthood, but this was just an opening that the Lord used to call me deeper.
I continued in this way of life until after high school when I began to seek to build a life where I would be able to serve others, and make a good living with the hopes of eventual marriage and family. I began to study engineering at the University of Western Ontario. It was my first time living on my own away from familiar surroundings. No one around me paid too much attention to how or if I practiced the Faith, if I went to Mass, if what I did was consistent with being Catholic. It was through this environment where I had to decide for myself my own standards and values that I noticed our Lord calling me to conversion, to strive to live the Faith and grow in relationship with Him. I began searching for a parish community like the community in my hometown, but with my busy schedule, this did not easily avail itself at first. It was not until my second year that I found such a community, where a group of us university students would meet after every Mass, share breakfast, and enjoy one another's company. It was through an experience of being in such a group of young people that cooked, ate, sang, prayed, and discussed the Faith among other things that I was able to grow into a deeper relationship with Christ.
When I was searching, I often found that the suggestions and thoughts of priesthood continued to arise from unlikely places and in unlikely events. But it was not until I found this community that I began to take them more seriously and think that perhaps this was Christ's way of calling me to the priesthood. In spite of a growing recognition of this call, I still had my own plans and desires for what I intended to do with my life. But after reading Archbishop Fulton Sheen's The Priest is not His Own, I came to realise that I needed to make that to which God was potentially calling me, in and through the Holy Spirit, my first priority because this call was coming from the God who made me, and in His love wanted me to find true fulfillment.
By the end of my second year, I was beginning to put my relationship with Christ ahead of my studies and I could no longer ignore the call. I began to make preparations through the Director of Vocations to leave my studies of engineering and enter the Seminary. This is something I thought that I would never do, and even after entering I thought that if I was wrong about this call, I could always return to what I was doing before. But the more time I spent here at St. Peter's, I saw my call be confirmed in numerous ways and the less interested I became in my former plans for my life. The transition from studying engineering to philosophy was not an easy one, but as time progressed, I grew more comfortable in these studies which prepared me for theological studies. The seminary has afforded me not only with a place where I could study to know more about our Triune God, His saving work in and through history especially in Christ, Sacred Scripture, and the teachings of the Church, but also a place where I could receive regular spiritual direction, the help of numerous formation advisors, and encounter a community of other men from dioceses all across Canada seeking to grow in holiness. It was in and through this environment I was able to develop a stronger relationship with Jesus Christ and recognize His call more clearly.
Discerning a vocation, one's meaning in this world is not an easy task. Looking back to who I was in my high school and university days, I can say that St. Peter's has made me a better man by forming me in human, intellectual, pastoral and spiritual capacities. In this, my seventh year at St. Peter's, I am grateful that the Lord has prepared, invited, and called me to serve Him and His Church and I look forward to giving my life in service for the people of the Diocese of London.